What are the best Brocantes in Brussels?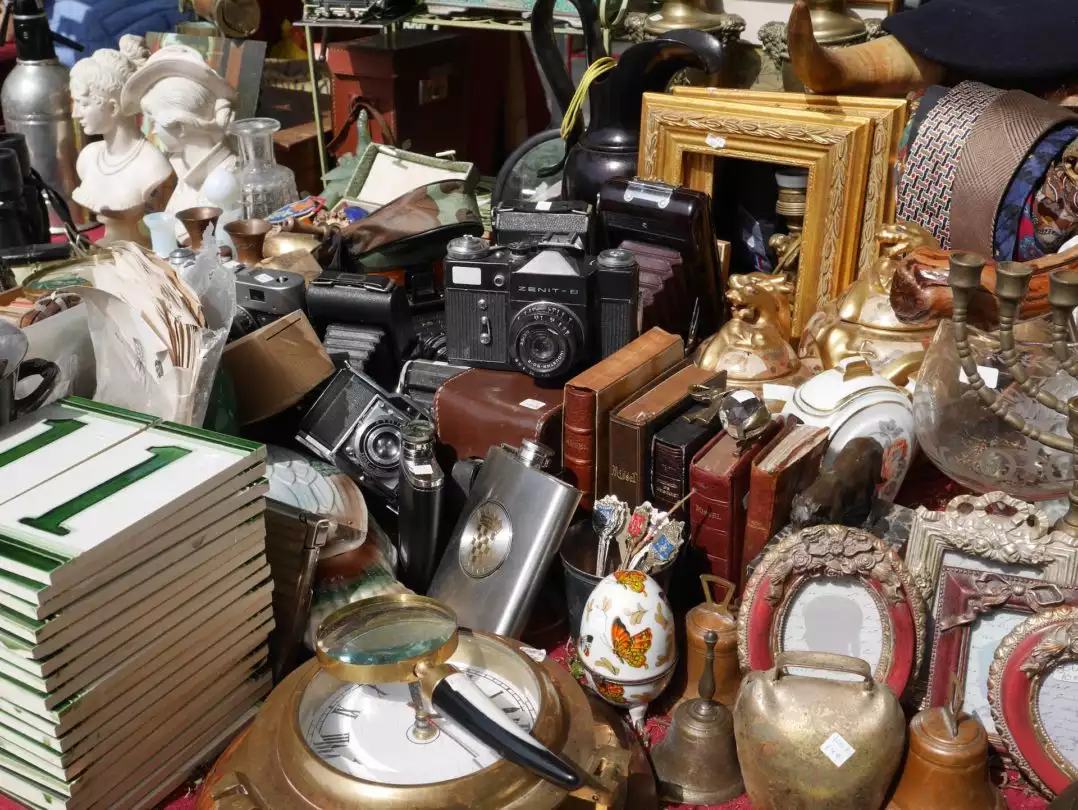 What to do in Brussels? How about a flea market today?!
In Brussels, a real gold mine awaits lovers of unique finds and treasure hunt enthusiasts: flea markets. These flea markets, where history and diversity meet, are a real attraction for locals and visitors in search of vintage items, antiques and unusual items. Discover the charm of Brussels flea markets, explore lively neighborhoods and immerse yourself in the friendly atmosphere of these colorful markets.
Every month, numerous clearance sales and flea markets delight young and old on the territory of the City of Brussels. Paradise for families and friends to make an appointment. On these flea markets, it is possible to find good deals for strolling, relaxing, doing good business, have a bite to eat or have a drink.
First of all, know that the biggest flea market in Belgium is not in Brussels but in Temploux near Namur. The latter is international and brings together 1.200 exhibitors over more than 6km.
In Brussels, the flea markets are more modest, but just as interesting. The most popular is undoubtedly the Flea Market in Brussels.
Before we go any further, you might also be interested in this: The Brussels Flea Market
You will therefore probably find a flea market today that interests you. There are many flea markets. Flea market experts will undoubtedly recognize those like:
Flea market,
Antiques,
Ixelles nautical chips,
If these terms appeal to you, we invite you to discover the Belgian capital for a weekend through these vintage shopping moments as well as visiting antique dealers.
What is a "flea market"?
Brocante is a simple concept. If this term is still unfamiliar to you, it is a public place. For example, a street closed to the public only for one day, where a kind of market (see also the list of the best markets in Brussels) , where everything is sold.
Sellers are professionals or individuals, who have rented a location to resell business. Very often, are found on flea markets, funds of attics and cellars. so don't expect to find anything new. Generally, items are second hand. Throughout the duration of the flea market, the seller can deposit all the objects he wishes on the floor. So you can also find Books, only video games, bicycle or alternatively washing machines. Very often, these are items that we no longer know what to do with... For example, children's bicycles, old records and video games, etc...
It is from spring that generally flea markets and clearance sales come back to life on the territory of the City of Brussels. In this article, we present to you the calendar of Flea markets in Brussels at the bottom of this page.
If you are looking for bargains, according to is good because buying second-hand goes hand in hand with low price.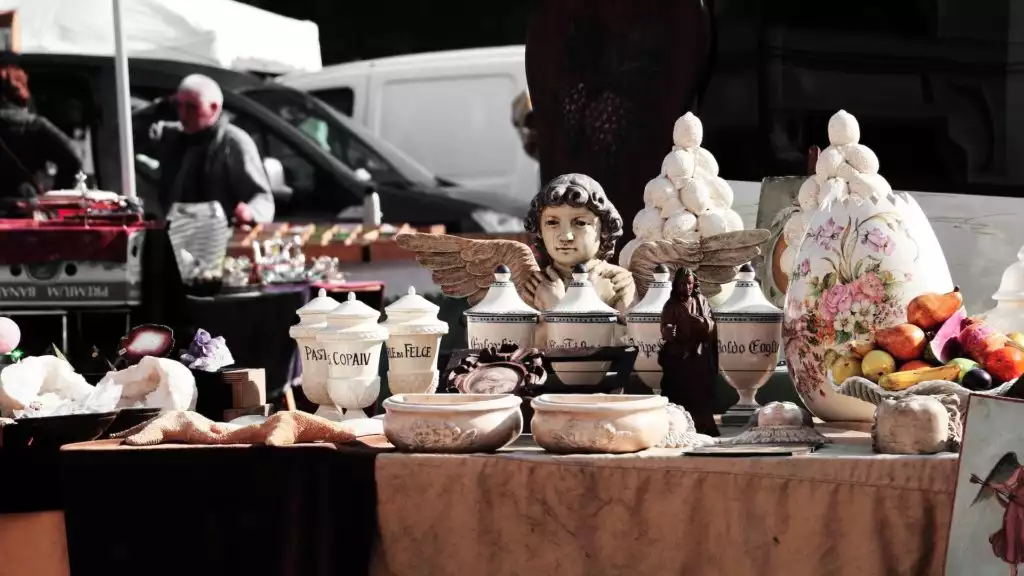 What are the items that sell the most at a flea market?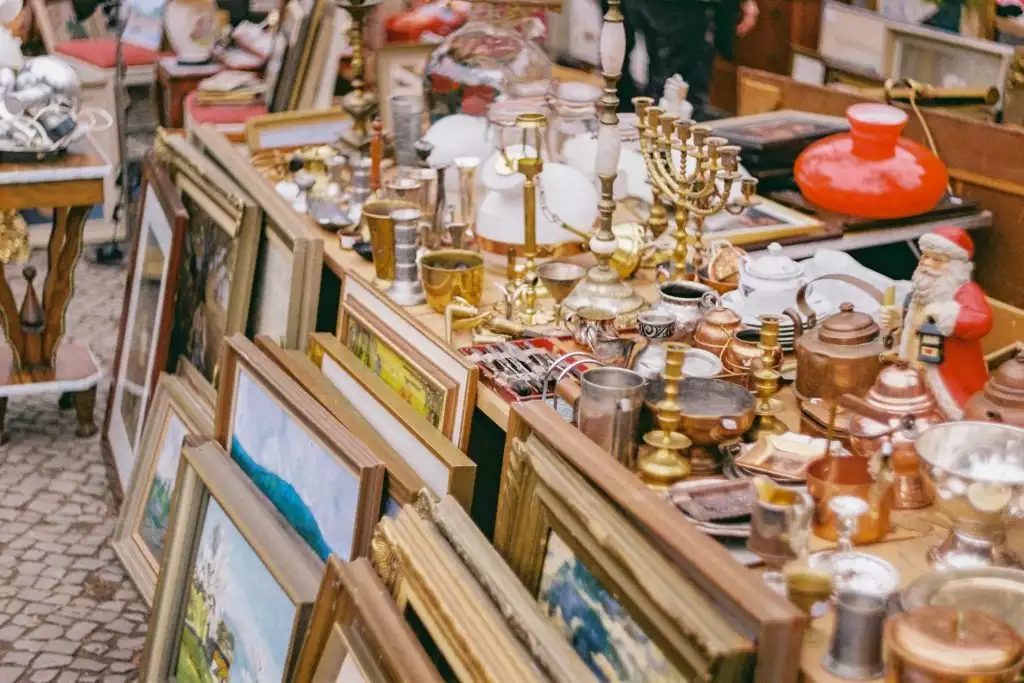 Belgian flea markets and street markets sometimes set the pace in certain neighborhoods in Brussels. As this is an opportunity to do good business, it is important to know what you will be able to buy where to resell. If you want to empty your cellar or grenir to make some money, here are the best tips for the items that are the most sold and popular on flea markets in Brussels. If you have these in your cellar, you know what to do.
Furniture. It's not the easiest thing to carry to the flea market, but be aware that chairs, tables, cupboards that are still in good condition meet with some success and sell quickly at a good price.
Board Games we no longer count the number of monopoli games and other game boards that we can find near the cards, puzzles. A little advice before buying, check that these are complete and in good condition.
Vintage. If you have old stuff lying around in your attic, such as crockery, decoration from your grandmother. You might get some money out of it and make room.
Books if you don't have a large library and aren't the type to read a book twice, now you know where to resell them.
Video games and toys if you have old DVDs, CDs, video games, vinyls…. buyers are often in search of these. Ditto for children's toys. Barbies, Drones, electric trains and action man generally sell well.
Clothing whether adult or children's clothing, winter or summer, some never go out of style. Those who are still in very good condition, hardly ever worn, are leaving quickly.
What are the must-do flea markets in Brussels?
Brussels is full of flea markets which are held regularly in different areas of the city. Among the most popular is the Place du Jeu de Balle, which hosts the famous flea market every day. Here, visitors can unearth hidden gems among vendor stalls selling a variety of items, from antique furniture to vintage jewelry and rare vinyl records. The Place du Grand Sablon is also a must with its prestigious flea markets and renowned antique dealers.
In addition to these emblematic places, districts such as Saint-Gilles, Marolles and Chatelain are renowned for their regular flea markets, where lovers of vintage objects can find rare nuggets. On Sunday mornings, the streets are transformed into a real paradise for bargain hunters and the curious in search of unique pieces.
The experts at the Brocante Bruxelloise could only recommend:
1. Flea market of the Place du Jeu de Balle (Find out all about Sunday flea market)
2. The antique market in the Sablon district : Every weekend, antique dealers are in heaven Place du Grand Sablon 1050. Among the objects presented, there are old furniture, records, dishes, clothes, books, paintings and many others! This antiques market has been accessible to Brussels residents for at least 50 years and it is always full. It seems to be one of the oldest! Meet every Saturday from 9 a.m. to 17 p.m. and Sunday from 9 a.m. to 15 p.m. If you want to know more about the Sablon district, we have already devoted articles to it:
3. The Brussels Design Market Every year in March, about a hundred exhibitors from all over Europe come to sell objects from the 50s to the 80s. Exceptional objects, rare, bargains, unique opportunities... there will be something to satisfy all bargain hunters. The vintage design will dress up your home. Meet at Tour & Taxis (avenue du port 86c 1000 Brussels Belgium)
Nautical Fleas in Ixelles. Heaven for finding marine items. If you like boating or diving, surfing, jetskiing,… Come and find a rudder, sails, oars and other nautical antiques… The flea market is aimed at both amateurs and enthusiasts of the world. nautical. No less than 3km of flea markets in the Châtelain-Bailli district. Every year, one Sunday in May
Brussels Vintage Market we already told you about it in an article dedicated to Brussels Vintage Market. The ideal place to find retro and vintage clothes every first Sunday of the month.
A flea market in a store: The flea market of Noyer. At your service since 1994, this is a covered flea market. They buy the antique furniture to individuals, which they then resell in their store.
What are the recurring flea markets in Brussels?
Throughout the year, some flea markets come back to the same place every month. If you are looking for what Brocante to do today, probably a flea market below will be today.
1. Brocante Westland (Anderlecht)
La Flea market Westland of Anderlecht brings together more than 10 visitors who meet 000 antique dealers every Sunday from 8 a.m. to 13 p.m. It's been almost 30 years of existence, the public is always there at the Brocante Westland in Anderlecht. They are there to unearth the rare pearls that were in an attic. Stroll with your family and find your happiness at a good price. On the program: vintage, clothes as well as toys and games for children.
Boulevard Sylvain Dupuis 1070 Anderlecht
See also: Sunday lunch market
2. Brocante of the "Friends of the flea market" (Anderlecht)
All first Sundays of the month from April to October, 40 exhibitors are present from 7h to 15h. On the program, flea market and neighborhood party "Les Colombophiles". Lots of activities on the program, in addition to the flea market you will find games, barbecue and even pétanque.
"Patch" park – Rue Des Colombophilles 1070 Anderlecht
3. Flea market under the Herrmann Debroux Viaduct
The flea market under the Herrmann-Debroux viaduct takes place every 1st and last Sunday of the month. The "Viaduc (Clothing)" flea market is a flea market exclusively reserved for the sale of clothing. Four flea markets of this type take place each year. Every first Sunday of the month, 300 exhibitors are present from 6 a.m. to 13 p.m.
Avenue Herrmann Debroux 1160 Auderghem
3. Flea market Marie-Rose (Molenbeek)
Every 1st and 3rd Saturday of the month, from March to October, 40 exhibitors are present from 7:30 a.m. to 15 p.m.
Square of the Liberators – Boulevard du Jubilè 1080 Molenbeek-Saint-Jean
4. Carrefour flea market (Auderghem)
Every 3rd Sunday of the month, the Flea market at the Carrefour d'Auderghem 250 exhibitors are waiting for you in the Carrefour car park from 6:00 a.m. to 13:00 p.m.
Boulevard du Souverain 240 1160 Auderghem
5. Koekelberg Flea Market Place Simonis (Koekelberg)
Every 2nd Saturday of the month, 80 exhibitors are present from 7:30 a.m. to 13 p.m. on Simonis Square
Boulevard Léopold II 1081 Koekelberg (Simonis metro esplanade)
6. Covered flea market – Les Puces d'Uccle
Every Sunday in Uccle in the galleries of the scale (715 chaussée de waterloo. 1180 Uccle) the covered flea market takes place. 70 exhibitors are present. Doors open at 8:30 a.m. for (non-subscribers) and at 8 a.m. for subscribers. Until 16 p.m. Convenient if it rains in Brussels, you can spend a dry and warm day to either buy or sell.
7. Brocante Saint-Lambert (Woluwe)
Every first Sunday of the month, 40 exhibitors are present from 8 a.m. to 13 p.m. for the Flea market Woluwe-Saint-Lambert. She was the oldest. She was the prettiest. She is back here: Place Saint-Lambert 1200 Woluwe-Saint-Lambert
Other things to do on Sunday in Brussels
It is Sunday? Make the most of it, here are some ideas to keep you busy on Sundays in Brussels.