The 4 best places to pick organic fruit and vegetables near Brussels?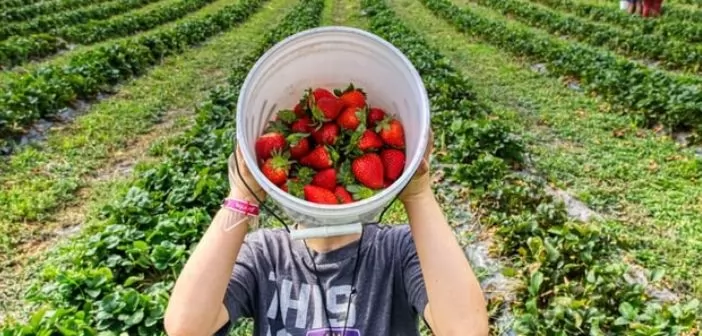 Living in Brussels, you are probably not lucky enough to have a garden. If you have a garden, you may not have no time to manage a vegetable garden. Same for fruit trees. Still, if the fresh air and fruit put you in a good mood, why not sample the pleasure of picking ? You may not have known it, but near Brussels, you can pick your own fruit: strawberries, raspberries and many others ! Very often, the pickings take place directly in thefarm fields.
👨‍🌾✂️🌳Before going further this article should interest you: The best nurseries for your garden near Brussels
Difficult to do better when it comes to freshness. Indeed, you take the fruit directly from the tree. Also ideal for the wallet. On the health side, it's an opportunity to get some fresh air. If you have children, they will especially appreciate this kind of ride. Help them discover that fruits and vegetables have seasons. Also, it will be an opportunity to discover fruits and vegetables in a context other than the supermarket. Here, we therefore favor the local.
Find below the best places for you find in nature, discover the scents of the earth, the smell of fresh fruit. Once back home, what could be better than making strawberry jams freshly picked in Brussels?
If you're wondering where you can eat local, seasonal fruits and vegetables, for cheap, here are the best farms, gardens and places near Brussels where fruits and vegetables grow in self-service.
1. The advantages of picking organic fruits and vegetables:
Picking directly from organic farms has many advantages. You can enjoy fresh, high-quality produce, support local farmers, and have a positive impact on the environment. In addition, it is a fun and educational activity, ideal for families and nature lovers.
2. Criteria for selecting the best picking locations
We have carefully selected the places presented in this article taking into account several criteria. We have ensured that they are certified organic, offer a wide variety of crops, are easily accessible from Brussels, and offer an enjoyable and enriching experience for visitors.
3. The four best places to pick organic fruits and vegetables near Brussels?
When it comes to healthy eating and supporting local agriculture, nothing beats picking organic fruits and vegetables straight from the source. Near Brussels, you can find places that offer this unique experience. In this article, we will introduce you to the four best places where you can pick your own organic fruits and vegetables, while enjoying the beauty of the surrounding nature.
A. BioBees: the best place to pick strawberries 15 minutes from Brussels
Already in 1981, Luc Pauwels was concerned about the environment. He then opts for the method organic farming. Together with his wife Narrisa and their employees, they commit themselves every day with passion to offer the best of nature. On the menu, in May and June, it's strawberry season. You can pick delicious organic strawberries in Ternat as well as in Dilbeek. It is only at 15 minutes from Brussels. Here is an ideal little excursion with or without children! The picking takes place either in one of our tunnels or in the open air. Prices in 2020 were €8 per kilo of strawberries.
📍 Kruisstraat 2B 1740 Ternat
B. The fields of the cauldron: picking baskets of organic vegetables in Anderlecht
The Champ du Chaudron is good more than just a picking place. Behind this project hides a place that offers a model of production and local processing with various activities, integrated into an environmental and social network, to increase the resilience of the Brussels food system. The "cultivated" pole offers diversified and organic agricultural production.
If you are interested in ORGANIC, here is organic restaurants in Brussels.
They offer direct sales in the form of vegetable baskets with subscriptions, to be collected on site or at a drop-off point. You can also find their products in store: Made in Anderlecht and BeesCoop. You will have the option to purchase their baskets of vegetables in subscription, but also individually for pre-order. Even with a subscription, it is possible to harvest the fruits by self-picking.
To give you an idea of ​​the typical composition of a large basket (September, photo above), you will find: Tomatoes 1 kg – €5, Beans 400 g – €3, Zucchini 1,5 kg – €3, Cabbage Turnip 600 g – €1, Eggplant 800 g – €3, Parsley – €1, Oregano – €1,5, for a total price of €17,5, i.e. 4,5 kg.
4 to 5 vegetables and an aromatic herb in the small basket.
5 to 7 vegetables and one or two aromatic herbs in the normal basket.
You will receive, each week, at the same time as your baskets, an email explaining to you what your basket contains, recipes and news from the field.
C. Fruit-Time in Anderlecht, picking red fruits but also flowers!
Between June et September, Currants, strawberries, raspberries, blackberries, cherries, blackcurrants, blueberries await you… Depending on the season, There will be something for everyone.! Take a dish available to you at the entrance and then fill it with fruit. Price level, it's very easy, you pay by weight. You even have the possibility of picking flowers. Before going there, check on the site www.fruit-time.be the schedules as well as the fruits that you can pick. The paths are easy to access also ok for people with reduced mobility.
📍Address: 465 apple tree street, 1070 Anderlecht
D. Les Délices de Pinchart: a great place for strawberries and seasonal products!
What a long way from this spring 2005! Caroline and David were looking for a complementary activity. They started simply with 3 strawberry tunnels. Thanks to a small "ephemeral" store in a garage on Rue des Vergers, they made their first sales. Very quickly, their customers asked them for more products. The range is therefore extended with raspberries. Even faster, the garage became too narrow! In 2011, they embarked on the construction of a shed along the national to have visibility.
Today, if you are looking for 100% natural products with a unique taste? Made in Pinchart offers you an artisanal production. On the menu ASPARAGUS GREEN (beginning of April – end of May), STRAWBERRIES (early May – mid-September), MUSHROOMS of brown and white Paris, chicory DE PLEINE TERRE and many more! Also, they offer derivative products such as jams, jellies, syrups, vinegars, liqueurs made from our fruits! In short, something to delight the greediest.
E. Tom's Vegetables
The concept is great, although a little further from Brussels, we add it, if you live there where to pass by to go to work!
Do you want to participate in this new mode of fashion and ecological awareness of consuming locally, organic and eating in season? Avoid making your vegetables travel thousands of km. It all starts with initiatives such as Tom's! The principle works by subscription in order to guarantee them an income and plan production.
The price ? 9 euros/adult/week and the subscription period covers 32 weeks, 65 different vegetables that you can come and harvest 7 days a week and several times a week if necessary. An adult will pay for the period of 7 weeks a total of €32 incl. VAT (Children pay in proportion to their ages)
​Concretely:
Each week, an email explains the harvestable vegetables to plan your other errands.
A direct entrance to the vegetable garden (route d'Ottignies 9d, 1380 Lasne) 7 days a week.
A panel will remind you of thevegetables available (a flag will indicate that the crop is ready and a sign will explain how to harvest it)
Harvest the vegetables you want in the right amounts for your household.
📍 Route d'Ottignies 9 1380 Lasne-Chapelle-St-Lambert
4. Tips for getting the most out of picking
To get the most out of your picking experience, we recommend that you inform yourself about the harvest periods, bring reusable baskets or bags, wear comfortable clothes and respect the rules and instructions of the places visited. Take the kids with you, they'll love it!
5. Conclusion
Picking organic fruit and vegetables near Brussels offers an enriching experience for both your palate and your mind. By supporting local agriculture and discovering the freshness of products directly from the farm, you contribute to your well-being and the preservation of the environment. So, do not hesitate to plan a visit to one of these four wonderful places and enjoy this unique experience in harmony with nature.