Where to eat on the terrace in Brussels? Our 10 favorite terraces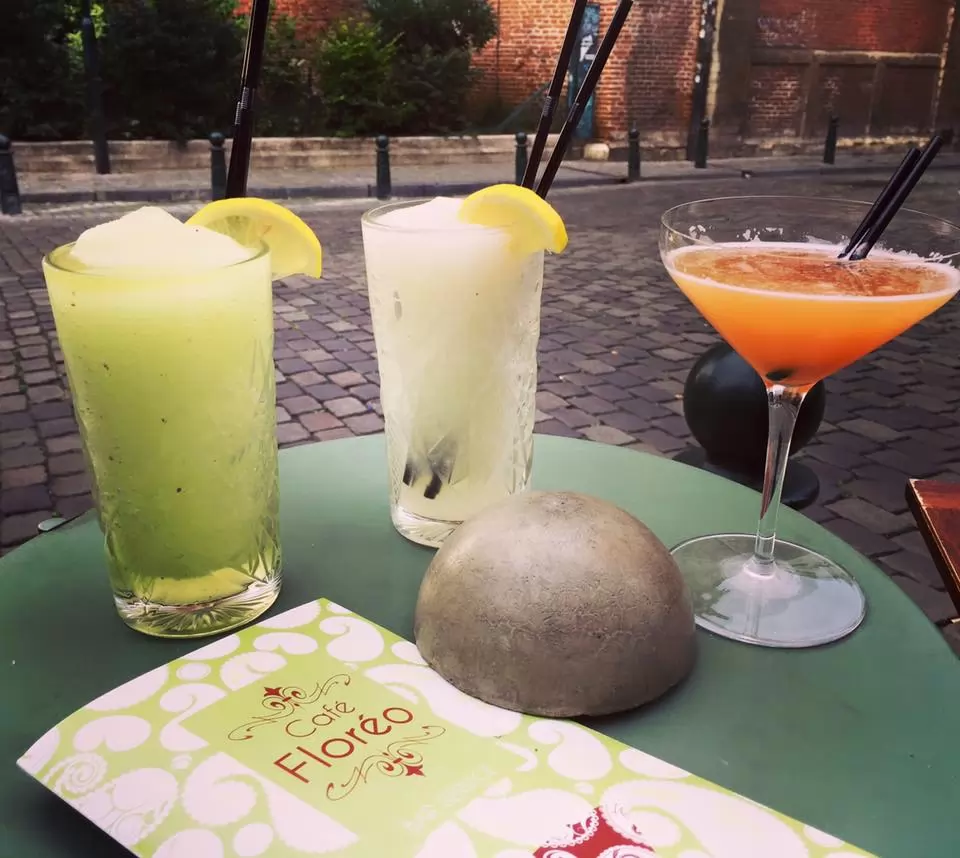 Did you say "terrace in Brussels"?
When sunny days are coming to Brussels, there is nothing better than relaxing while savoring a delicious al fresco meal. The city's terraces offer the perfect setting to enjoy the summer, with their convivial atmospheres, picturesque views and tempting menus. Discover the best terraces in Brussels where you can make yourself comfortable and enjoy delicious outdoor dining experiences.
After a long day of work, you want to treat yourself, to have a good meal in a well-ventilated setting. So, therefore, take a ride in one of these beautiful, elegant and top restaurants with a terrace in Brussels.
Go ahead, sit down, close your eyes…. Feel the delicious rays of the sun caress your face. Listen to the chirping of birds and the clink of glasses. It is undoubtedly a wonderful time of day and one that you will probably never forget.
Take advantage of this moment on one of the terraces of the 10 best restaurants in Brussels. Have you packed everything you need? If so, shall we take a walk in the streets of Brussels.
Top 10 best restaurants with a terrace in Brussels
They announce the return of fine weather and are expected like the first rays of spring in town. Here are ten terraces to enjoy the beautiful season.
Be careful before going any further, you might also be interested in this
Brussels is full of charming and diverse terraces, which will satisfy all tastes. Whether you're looking for a terrace with a breathtaking view of the city, a quiet and peaceful place in the heart of nature or a trendy place to relax with friends, there is something for everyone. tastes.
1. 52 and The Secret Garden: A secret terrace in Ixelles
This Italian restaurant is a well-hidden address that we love. Located on the Chaussée de Vleurgat, you will probably pass by without noticing it. It would be a shame, because 52 and the Secret garden is undoubtedly one of the most beautiful restaurants in Brussels. His secret weapon? Its bucolic, colorful and serene garden. The open kitchen, the exceptional freshness of the food and the friendliness of the staff make this place one of our favorites.
See this post on Instagram
Chaussée de Vleurgat 52, 1050 Ixelles. For more information, visit 52andthesecretgarden.be.
2. Be Burger: a terrace Place Sainte Catherine
Be Burger is known for its original burgers and of high quality. It is the ideal place to enjoy a beautiful terrace on a sunny day. There are burgers everywhere in Brussels (Place du Luxembourg and Zaventem, Comptoir Be Burger Place Sainte-Catherine and Wemmel), even in Waterloo!
www.beburger.be
See this post on Instagram
3. Bouchéry: A terrace surrounded by greenery
Bouchéry is a restaurant with a pleasant atmosphere and original and very surprising flavors. The restaurant has a beautiful courtyard surrounded by greenery. A real island of calm in the heart of the city. We go there at lunchtime to taste the delicious vegetarian brunch dishes or choose a menu of 4, 6 or 8 dishes. A real pleasure.
See this post on Instagram
Chaussée d'Alsemberg 812/A, 1180 Brussels. You will find more information on the website bouchery-restaurant.be.
4. Le Flore – a terrace in the Bois de la Cambre
Do you want to go eat at the restaurant? Le Flore has replaced Le Wood and now offers a bar/restaurant where you can enjoy cocktails in a boudoir with pastel pink colors, rattan furniture and neon colors. The terrace is undoubtedly one of the most beautiful and charming in the city, we love it!
See this post on Instagram

The Flore, avenue de Flore 3, 1000 Brussels. Information here.
5. The Classico terrace in Brussels
In the heart of Châtelain, on the terrace of the Classico, you will meet beautiful people and food vendors in a festive and Italian atmosphere. An ideal location, carefully prepared classic dishes and a good selection of wines make this restaurant a must for lunch and aperitif.
See this post on Instagram
Address: rue Américaine, 124 1050 Ixelles.
6. Humphrey, the terrace where you eat local and seasonal
This Filipino-inspired restaurant is located in the heart of downtown. Executive Chef Glen Ramaekers serves inspired dishes and small plates to share. The fresh local ingredients are the main reason to come here. The real benefit? A large terrace at the back of the restaurant, visible through large windows. Customers can even taste local herbs and vegetables in the restaurant. And yes, we share here!
See this post on Instagram

36-38, Rue Saint-Laurent, 1000 Brussels. For more information, visit humphreyrestaurant.com.
7. Chez Odette en Ville, a rather chic terrace!
The modern hotel-restaurant Odette en Ville is like London in Brussels. This elegant outdoor terrace is rather romantic. She will offer you candles, immaculate white tablecloths and simple and sophisticated dishes prepared with seasonal products. After all.
See this post on Instagram

Address: 25 rue du Châtelain, 1050 Brussels (www.odetteenville.be).
8. The 65 degrees, a restaurant with a social mission
The 65 degrees is an original restaurant concept that we fully support. Its mission is to promote the inclusion and development of people with disabilities. At the start of its operation, the restaurant employed 6 people with Down syndrome. This number increases every year. In addition to the social aspect, the restaurant offers a refreshing atmosphere with a beautiful unexpected terrace behind.
See this post on Instagram
9. VOLTAIRE: a terrace from breakfast to dinner
It is one of the best terraces in Brussels (because it is always sunny)! An idea ? Buy Le Monde Candide (next to the bookstore), walk in the sun with XXL sunglasses, enjoy a vitamin juice and the meal of the day for breakfast. You can observe and explore the fauna of the famous Square Brugmann at any time of the day.
See this post on Instagram

Address: Place Georges Brugmann, 3 – 1050 Brussels (www.voltaire-restaurant.be)
10. LA TERRASSE DU BRUGMANN, a gourmet terrace
With a tea buffet, a restaurant Gastronomic restaurants in Brussels, a bar at Best cocktail bars in Brussels on the ground floor and an XXL terrace in the garden, ….. Brugmann is a 4 in 1 where you can enjoy good food away from the hustle and bustle of the city. What better way to sunbathe than on the terrace overlooking the Abbé Froidure park.
Address: Avenue Brugmann 52, 1190 Brussels. (Brugmann.com)
See this post on Instagram
Practical tips for dining on the terrace in Brussels
When planning a terrace outing in Brussels, here are some handy tips to keep in mind. It is recommended Reserve in advance, especially during periods of high heat, to guarantee a place on the terrace of your choice. Also check the opening hours, as some terraces may be closed on certain days of the week. Finally, dress appropriately according to the style of the establishment and the weather to fully enjoy your outdoor experience. Also think about a hat, sunglasses and sunscreen… Some terraces don't have a parrasol.
Last tip, some restaurants have a 'terrace' located next to a main road on the very noisy sidewalk. Remember to check what you book.
Highlight local flavors
One of the advantages of terraces in Brussels is the possibility of tasting dishes highlighting local and seasonal products. Many restaurants and cafes favor fresh ingredients sourced from local producers, ensuring an authentic and flavorful dining experience. Take the opportunity to taste Belgian specialties, such as mussels and fries, the waffles and craft beers, while enjoying the enchanting setting of the terraces.
To go further than on the terrace in Brussels
Well, now you have the list of the best restaurants with a terrace in Brussels. So, what are you waiting for to treat yourself? Visit one of these 10 cheap places to eat in Brussels and have a good time.